What's going to be covered here is just a bunch of websites which suit people who are completely ballistic over their fandoms and would kill for more fanart and the like for the sake of them.
-Pixiv

http://www.pixiv.net
The Japanese equivalent of DeviantART. It has lots of beautiful artwork for your viewing pleasure,only that you need an account to gain full access to the site.
・Site registration



1-Register for a Pixiv account. Duh.
2-Place to enter your Pixiv ID.
3-Enter your password.
4-Remember you the next time you login.
5-Login.
6-I've forgotten my Pixiv ID/password.

So you obviously click the first one if you don't happen to have an account.



You should be redirected here. Enter your email in the yellow box and click the yellow button.


Click on the circled button. They'll take you to another place in the site, notifying you that they've sent you a verification email and it's now in your inbox. Go open up your email and click on the link they have sent you.


You will then be directed here.
1-Pixiv ID. The button next to it is to check the availability of what you have picked. Should be between 3-32 characters long, only hyphens and underscores allowed(which cannot be inputted at the beginning of your ID.) Everything will be converted from uppercase to lowercase letters. (Eg: PIXIV → pixiv.)
2-Your supposed password.
3-Type your password again.
4-Your site nickname. Should be between 15 characters.

Ignore the last box because it's not needed.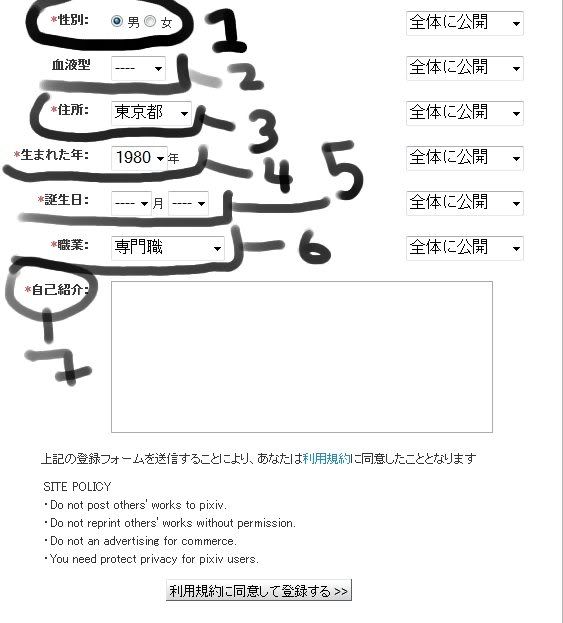 1-Gender. The one which has a dot on means boy, while the other is girl.
2-Blood type. Not needed.
3-Address. Randomly picking one is okay.
4-Year of birth.
5-Birthday.
6-Occupation...it's okay to randomly pick.
7-About you. Just type in some letters.

When you're done, click on the button. Make sure you agree to Pixiv's policies! And now, you should be able to view the site. You've created your account there now!
・Site Navigation



You can navigate the site by the following:
1-Tag (Tags associated with the pictures can be found.)
2-Title ・Caption (Finds fanart through their titles.)
3-Web (I have no idea.)
4-Random (Generates any random tag/whatever and gives you results based on it.)

-Nico Nico Douga

http://www.nicovideo.jp
It's something similar to a Japanese Youtube, only that the videos from this site lean more towards parodies and MADs.
・Site registration



Click on the login button that's on the top-left hand corner of the page.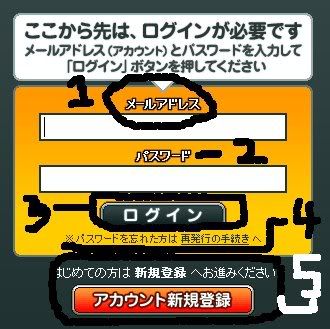 You will then be shown this page.
1-Email address.
2-Password.
3-Login.
4-Forgot my Nicovideo password
5-Register for a new account.

You click on the last button if you want to register, obviously.




1-Register for a premium account
2-Register for a normal account

I'm only going to cover how to register for a normal account on Nicovideo because I have no idea what sort of benefits you get (and you pay for) in a premium account.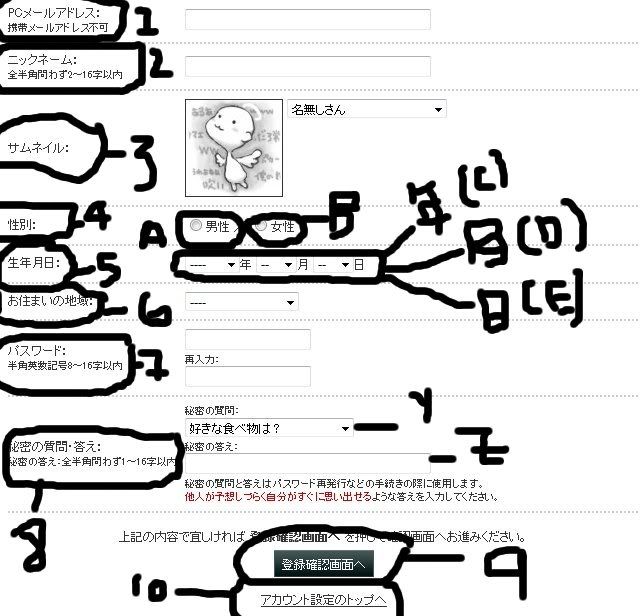 1-Email address.
2-Nickname, between 2-16 letters.
3-Thumbnail. You can choose whatever picture there to your liking.
4-Gender (A) Boy (B) Girl
5-Birthdate (C) Year (D) Month (E) Day
6-Area you are living in. Any random one works.
7-Password, between 8-16 letters. You see the two boxes for that 1 category? Type it twice.
8-Secret question・answer (Y)Question (Z)Answer
Don't worry about what question you choose, as it's really the answer that matters. They will show you this secret question when you say you have forgotten your password.
9-Enter your "results."
10-Account settings. It directs you to a page to login. (Just ignore it.)

You will then be shown a confirmation page of what you have typed in. Make sure what you've put in is correct.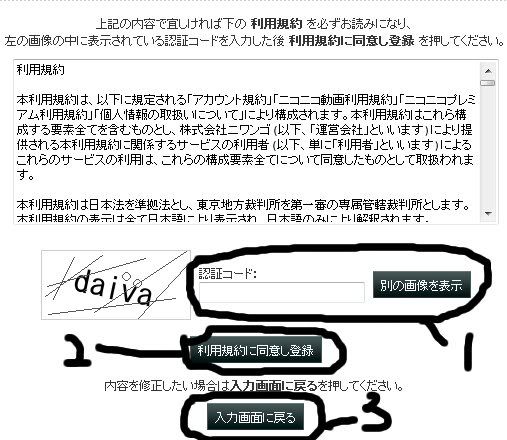 The huge box at the top is Nicovideo's terms and policies.
1-Type in what you see in the box. If you cannot recognize the text at all, click on the button next to the box to generate a new word.
2-Confirm everything and submit.
3-If you've made an error somewhere, click on this button to re-edit your stuff.

Anyway, you will be brought here after completing your form.



They have now sent you an email to activate your account. Right now my head is hurting so I'm not going to elaborate on what is stated there. Go use Google Translate or something.
Click on the link in the email sent to you.

Yeah, censored.
You now have got your account at Nicovideo. Click on the bottom button to be brought back to the main site. You will be logged in.

Go crazy.


・Site navigation




I don't think you can see a thing anyway so read from left to right.
1-Search by keyword.
2-Search by tag.
3-Search button.
4-Can't understand it. Something about recording your action history in your "Mylist."
And there are probably other sites, but I won't be touching on them (just listing them down) because they're in English. Surely people who come to this site understand English, right? (Okay...maybe not, but the majority?)
English site where people dump fanart and photography shots.
Site for videos and stuff. Some people here upload videos from NND  because other people [s]who are too lazy to register[/s] can't understand Japanese and can't make an account there themselves.
It's a great site for pictures (although they're mostly ripped from Pixiv fandom-wise) given that you have the correct tags.

-Tegaki-E

A site where everything is handwritten (well, most of it.)
...aaaaand that's it. If there are any others I'm supposed to put up here, feel free to leave a comment in my guestbook and tell me.

I need to make this place more fun asdfghjkl;.