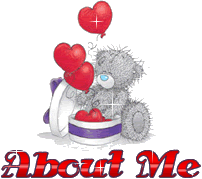 Well errm what can I say, one I hate talking about myself, two I can never think of what to say, I mean I dunno what you want to hear, do I?
I will start with a little about me.
I am Tracey and I am 37, god where have all the years gone, I'm sure I was only 18 yesterday - I wish, lol. I have got two children, a boy, Stevie aged 17, and a girl, Sherrie-lee aged 14 almost 15. Sherrie has done well in high school she ihad a poem published in a book which she wrote whilst in year 7. Gosh it doesn't seem that long ago she started school, when she looked up at me in her school uniform and said "You won't forget me Mummy, will you?" Needless to say I burst into tears, lol, after promising myself I would not cry when she went to "BIG" school.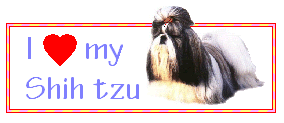 We also have in our family, two Shih Tzu's, named Coco, who is gold and white and her daughter Saska, who is black and white. They are both such lovely dogs, with a fantastic personality, they have both got amazing temperments, which I believe most Shih tzu's have. Coco is very laid back and she'll let you do anything with her, Saska although toterates being groomed, she does protest when you find a tangle or two. Saska has a completly different personality to her mum, she is more in your face and loves to lick everything and everyone, she is always licking. There is nothing I like more than curling up on the sofa with Coco on one side of me and Saska on the other. Oh yea, Saska is my permanant shadow, Coco used to be, but since Saska came along, it seem's Saska has taken over that role. Although most time Coco does follow me around, Saska is there 100%, I cannot pee in peace, lol. And when I have a bath it's Saska who stands on her hind legs, licking the side of the bath waiting for me to get out.
I am totally crazy about

Gerard Way the lead vocalist with MCR (My Chemical Romance), I have all their albums. I also like Cher and

Shania Twain and would love to see her in concert. I also like Linkin Park and I like a bit of Good Charlotte, Green day, The Offspring, and Simple Plan. I am always listening to my music on either my LG Cookie (mobile) or my Ipod.
I collect Tatty Teddy (Grey bear with little blue nose) although I have nmot had any new ones in months, as I have run out of space for anymore :( I have over 60 ceramics at the time I am typing this (probably many more by now), snow globes, plushies, badges, keyrings etc. I enjoy reading; I like biographies, and true life stories. But I also love crime fiction, my favourite fiction writers are Tess Gerritsen, Sidney Sheldon, Mandasue Heller, Erica Spindler, Martina Cole and Lyndia LaPlante.
If I think of any more info later I will come back and add it here.