I made some whoopie pies a few days ago....and then made another batch today. We can't stop eating them! We made ours gluten free, but the recipe can be made with regular flour too. They taste a lot like I remember devil dogs tasting..but better.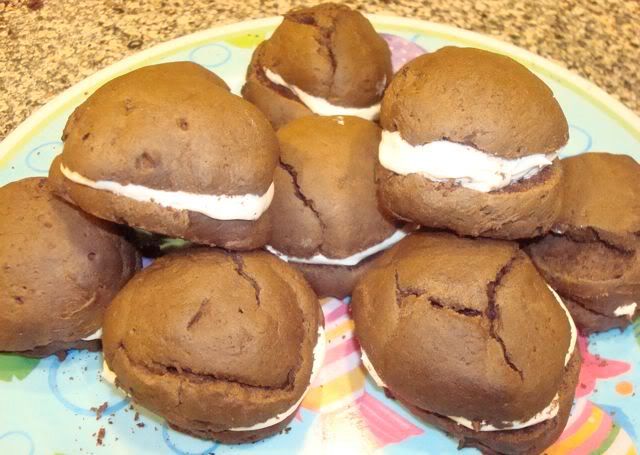 Here's the recipe:
Cake:
2 c flour ( for gluten free use 1 1/3 c rice flour, 1/3 c potato starch and 1/3 c tapioca flour...or a pre-mixed gluten free flour mix)
1/2 c sugar
1/2 c shortening or margarine
5 TBSP cocoa
1 1/4 tsp baking soda
1/2 tsp salt
1 c milk
1 egg
1 tsp vanilla
Filling:

1 c marshmallow fluff
3/4 c confectioners sugar
1/2 c butter (or margarine)
1 tsp vanilla
Mix sugar with shortening, then add rest of cake ingredients and mix well.
Drop tablespoon sized mounds onto ungreased baking sheet. Bake at 400 degrees for
10-12 minutes. Cool on rack. Mix all filling ingredients together with mixer and spread between cake pieces.
To make this gluten and dairy free I use a gluten free flour mix and rice milk. This tends to make the cake pieces very thick when baked. So I cut them each in half and spread the filling in the middle. YUMMY! Try it!