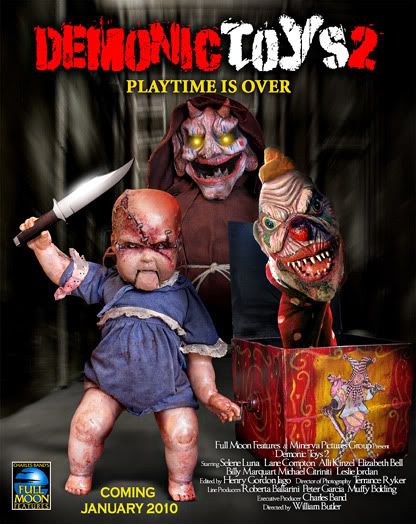 "You Shouldn't Toy With Your Personal Demons..."
CREW
Director .... William Butler
Writer .... William Butler
Producer .... Charles Band, William Butler
Based on the characters created by David S. Goyer
CAST
Michael Citriniti .... Dr. Lorca
Selene Luna .... Lillith
Alli Kinzel .... Caitlin
Lane Compton .... David
William Marquart .... Eric
Elizabeth Bell .... Lauraline
Jane Wiedlin .... Baby Oopsy-Daisy (voice)
PLOT
An oddities collector named Dr. Lorca (HIDEOUS) is out hunting for new items to add to his ever-growing collection, and through his journey he happens to purchase the demonic toys. As if that wasn't enough, he heard rumors of an old Italian castle harboring a doll that's able to move on its own, which leads him to his new destination. While in the castle something happens which causes all the dolls to return to life, forcing the Doctor and the residents to fend for their lives.
----------------------------------------------------------------
Not Rated
80 minutes.
Released to DVD January 26, 2010
----------------------------------------------------------------
DVD Special Features
• Behind-the-Scenes Videozones for DEMONIC TOYS and DOLLMAN VS. DEMONIC TOYS
• Trailers: Demonic Toys, Dollman vs. Demonic Toys, Puppet Master: Axis of Evil, Skull Heads
----------------------------------------------------------------