CRUISIN' DOWNTOWN WATERBURY & THE GREEN IN THE 1950s
Downtown stores we cruised by
CRUISIN' MUSIC WAS PROVIDED ON OUR "AM ONLY" CAR RADIOS BY:
(All of the sites in blue below will open in a new window when you click on them. The WKBW & WMCA sites contain audio files that play automatically, and many of the other sites have links to audio files, so you should click on the Pause or Stop button on the bottom of this page before going to them)
WKBW 1520 Buffalo - Dick Biondi, Tom Shannon
WMCA 570 New York City - Scott Muni
WINS 1010 New York City - Alan Freed, "Cousin Brucie" (Bruce Morrow), "Murray The K"
WMGM 1050 New York City - Peter Tripp
WPOP 1410 Hartford - "Hound Dog" (George Lorenz), Mike Lawless
WWCO 1240 Waterbury - Joe Mulhall, "Wildman Steve" Gallon
WATR 1320 Waterbury - "Rocky The Jockey" (Marvin Rothschild) & "Kwa The Earth Man" (our classmate John Kwasinskas, who took our record requests and dedications on the phone every weeknight) Listen to Rocky's theme song
Kwa The Earth Man
WBRY 1590 Waterbury - Lou Dennis, "Sweet Daddy" (Joe Mulhall / Ken Griffin) Read Joe Mulhall's 1950s Waterbury radio memories

CRUISIN' TUNES: ALL THE WMGM TOP 40 SURVEYS, 1956 TO 1961
SPRING CRUISIN' TUNES: THE WPOP "POP40", APRIL 1958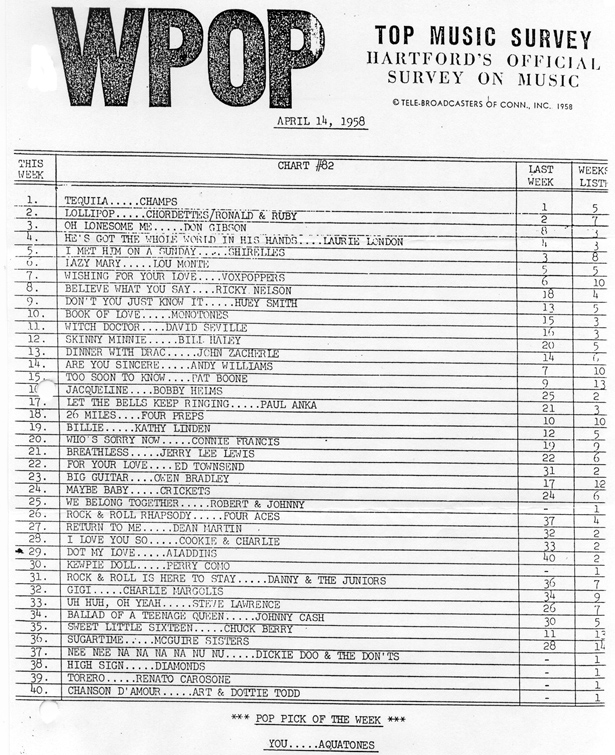 The #28 record on the Survey, I Love You So, was recorded by two high school students at Hillhouse High School in New Haven in 1958. Cookie & Charley were "regulars" on Jim Gallant's Connecticut Bandstand that preceded American Bandstand every afternoon on WNHC-TV in New Haven.
Let's Go Rock 'n Roll was on the flip side of I Love You So.
(Click on the Pause or Stop button on the bottom of this page before playing a video)
We cruised over to Buckingham Hall and the State Armory to rock 'n' roll
Cookie, Charley, and Jim Gallant (left) were joined by Class of 1959 Crosbyites Joyce Shiel, Don Vaitkus, Donna Davies, Bob Smith, Dolores Pomponio, and Hank Datelle when they cruised down to New Haven to do the Stroll on Connecticut Bandstand in 1958.
Some class members may remember Jim Gallant's rock 'n' roll stageshows at Marino's Danz-Er-Roll in Buckingham Hall in 1959.
Top 40 Hits Of 1958
(SONG TITLE - Artist, Label)

1. VOLARE - Domenico Modugno (Decca)

2. ALL I HAVE TO DO IS DREAM - Everly Brothers (Cadence)

3. DONT/I BEG OF YOU - Elvis Presley (RCA Victor)

4. WITCH DOCTOR - David Seville (Liberty)

5. PATRICIA - Perez Prado (RCA Victor)

6. SAIL ALONG SILVERY MOON - Billy Vaughn (Dot)

7. CATCH A FALLING STAR - Perry Como (RCA Victor)

8. TEQUILA - Champs (Challenge)

9. IT'S ALL IN THE GAME - Tommy Edwards (MGM)

10. RETURN TO ME - Dean Martin (Capitol)

11. IT'S ONLY MAKE BELIEVE - Conway Twitty (MGM)

12. THE PURPLE PEOPLE EATER - Sheb Wooley (MGM)

13. BIRD DOG/DEVOTED TO YOU - Everly Brothers (Cadence)

14. GET A JOB - Silhouettes (Ember)

15. LITTLE STAR - Elegants (APT)

16. TWILIGHT TIME - Platters (Mercury)

17. STOOD UP - Ricky Nelson (Imperial)

18. HE'S GOT THE WHOLE WORLD IN HIS HANDS - Laurie London (Capitol)

19. SECRETLY - Jimmie Rodgers (Roulette)

20. AT THE HOP - Danny & the Juniors (ABC-Paramount)

21. YAKETY YAK - Coasters (Atco)

22. WEAR MY RING AROUND YOUR NECK - Elvis Presley (RCA Victor)

23. ROCKIN ROBIN/OVER AND OVER - Bobby Day (Class)

24. POOR LITTLE FOOL - Ricky Nelson (Imperial)

25. WONDERFUL TIME UP THERE - Pat Boone (Dot)

26. JUST A DREAM - Jimmy Clanton (Ace)

27. SUGARTIME - McGuire Sisters (Coral)

28. TOM DOOLEY - Kingston Trio (Capitol)

29. SWEET LITTLE SIXTEEN - Chuck Berry (Chess)

30. TOPSY II/TOPSY I - Cozy Cole (Love)

31. LOOKING BACK - Nat King Cole (Capitol)

32. BOOK OF LOVE - Monotones (Argo)

33. TEA FOR TWO CHA CHA - Tommy Dorsey Orch. (Decca)

34. TEARS ON MY PILLOW - Little Anthony & the Imperials (End)

35. SHORT SHORTS - Royal Teens (ABC-Paramount)

36. GREAT BALLS OF FIRE - Jerry Lee Lewis (Sun)

37. LOLLIPOP - Chordettes (Cadence)

38. SPLISH SPLASH - Bobby Darin (Atco)

39. WHO'S SORRY NOW - Connie Francis (MGM)

40. MY TRUE LOVE - Jack Scott (Carlton)
"Regional" Top 40 Hits from 1958
Top 40 Hits Of 1959
Song Title
Artist
Chart
Position
Almost Grown
Chuck Berry
#32
Along Came Jones
The Coasters
#9
Alvin's Harmonica
The Chipmunks
#3
Always
Sammy Turner
#19
Among My Souvenirs
Connie Francis
#7
The Angels Listened In
The Crests
#22
Baby Talk
Jan & Dean
#10
Back In the U.S.A.
Chuck Berry
#37
Battle Hymn of the Republic
Mormon Tabernacle Choir
#13
The Battle Of Kookamonga
Homer & Jethro
#14
The Battle Of New Orleans
Johnny Horton
#1
Be My Guest
Fats Domino
#8
Believe Me
Royal Teens
#26
A Big Hunk O' Love
Elvis Presley
#1
The Big Hurt
Miss Toni Fisher
#3
Bobby Sox To Stockings
Frankie Avalon
#8
A Boy Without A Girl
Frankie Avalon
#10
Broken-Hearted Melody
Sarah Vaughan
#7
Caribbean
Mitchell Torok
#27
Charlie Brown
The Coasters
#2
Nick Nack Paddy Whack
Cyril Stapleton
#13
The Class
Chubby Checker
#38
Come Into My Heart
Lloyd Price
#20
Come On and Get Me
Fabian
#29
Come Softly to Me
The Fleetwoods
#1
Come To Me
Marv Johnson
#30
Dance With Me
The Drifters
#15
Danny Boy
Conway Twitty
#10
Deck of Cards
Wink Martindale
#7
Don't Pity Me
Dion & The Belmonts
#40
Don't Take Your Guns to Town
Johnny Cash
#32
Don't You Know
Della Reese
#2
Down By the Station
The Four Preps
#13
Dream Lover
Bobby Darin
#2
El Paso
Marty Robbins
#1
Enchanted
The Platters
#12
Endlessly
Brook Benton
#12
Everybody Likes To Cha Cha Cha
Sam Cooke
#31
First Name Initial
The Afterbeats
#20
Fools' Hall of Fame
Pat Boone
#29
For A Penny
Pat Boone
#23
Frankie
Connie Francis
#9
Go, Jimmy, Go
Jimmy Clanton
#5
God Bless America
Connie Francis
#36
Goodbye Baby
Jack Scott
#8
Goodbye Jimmy, Goodbye
Kathy Linden
#11
Graduation's Here
The Fleetwoods
#39
Guess Who
Jesse Belvin
#31
Handy Man
Jimmy Jones
#2
The Hanging Tree
Marty Robbins
#38
The Happy Reindeer
Dancer, Prancer & Nervous
#34
He'll Have to Go
Jim Reeves
#2
Heartaches By the Number
Guy Mitchell
#1
Heavenly Lover
Teresa Brewer
#40
Here Comes Summer
Jerry Keller
#14
Hey Little Girl
Dee Clark
#20
High Hopes
Frank Sinatra
#30
High School U.S.A.
Tommy Facenda
#28
Hound Dog Man
Fabian
#9
How About That
Dee Clark
#33
Hushabye
The Mystics
#20
I Ain't Never
Webb Pierce
#24
I Got a Wife
The Mark IV
#24
I Loves You, Porgy
Nina Simone
#18
I Miss You So
Paul Anka
#33
I Need Your Love Tonight
Elvis Presley
#4
I Only Have Eyes For You
The Flamingos
#11
I Waited Too Long
LaVern Baker
#33
I Wanna Be Loved
Ricky Nelson
#20
I Want To Walk You Home
Fats Domino
#8
I'll Be Satisfied
Jackie Wilson
#20
I'll Be with You in Apple Blossom Time
Tab Hunter
#31
I'm a Hog for You
The Coasters
#38
I'm a Man
Fabian
#31
I'm Gonna Be a Wheel Someday
Fats Domino
#17
I'm Gonna Get Married
Lloyd Price
#3
I'm Movin' On
Ray Charles
#40
I'm Never Gonna Tell
Jimmie Rodgers
#36
I'm Ready
Fats Domino
#16
I've Been Around
Fats Domino
#33
I've Come of Age
Billy Storm
#28
I've Had It
The Bell Notes
#6
If I Didn't Care
Connie Francis
#22
If I Give My Heart To You
Kitty Kallen
#34
If I Had a Girl
Rod Lauren
#31
If You Cry True Love, True Love
The Drifters
#33
It Doesn't Matter Anymore
Buddy Holly
#13
It Was I
Skip & Flip
#11
It's Just A Matter Of Time
Brook Benton
#3
It's Late
Ricky Nelson
#9
It's Time To Cry
Paul Anka
#4
Just a Little Too Much
Ricky Nelson
#9
Just As Much As Ever
Bob Beckham
#32
Just Ask Your Heart
Frankie Avalon
#7
Just Come Home
Hugo & Luigi
#35
Just Keep It Up
Dee Clark
#18
Kansas City
Wilbert Harrison
#1
Kissin' Time
Bobby Rydell
#11
Kookie, Kookie
Edward Byrnes
#4
Lavender-Blue
Sammy Turner
#3
Lipstick On Your Collar
Connie Francis
#5
The Little Drummer Boy
Harry Simeone Chorale
#15
Little Space Girl
Jesse Lee Turner
#20
Little Things Mean a Lot
Joni James
#35
Living Doll
The Drifters
#30
Lonely Blue Boy
Conway Twitty
#6
Lonely Boy
Paul Anka
#1
Lonely for You
Gary Stites
#24
Lonely Street
Andy Williams
#5
Lonely Teardrops
Jackie Wilson
#7
Love Potion #9
The Clovers
#23
Lucky Devil
Carl Dobkins, Jr.
#25
M.T.A.
The Kingston Trio
#15
Mack the Knife
Bobby Darin
#1
Makin' Love
Floyd Robinson
#20
Marina
Rocco Granata
#31
Mary Lou
Ronnie Hawkins
#26
May You Always
The McGuire Sisters
#11
Midnight Stroll
The Revels
#35
Mighty Good
Ricky Nelson
#38
Misty
Johnny Mathis
#12
Mona Lisa
Carl Mann
#25
Mona Lisa
Conway Twitty
#29
Morgen
Ivo Robic
#13
The Morning Side Of the Mountain
Tommy Edwards
#27
Mr. Blue
The Fleetwoods
#1
The Mummy
Bob McFadden
#39
My Heart Is an Open Book
Carl Dobkins, Jr.
#3
My Melancholy Baby
Tommy Edwards
#26
My Own True Love
Jimmy Clanton
#33
My Wish Came True
Elvis Presley
#12
Never Be Anyone Else But You
Ricky Nelson
#6
No Other Arms, No Other Lips
The Chordettes
#27
Nola
Billy Williams
#39
Not One Minute More
Della Reese
#16
A Fool Such As I
Elvis Presley
#2
Oh! Carol
Neil Sedaka
#9
Only Sixteen
Sam Cooke
#28
Personality
Lloyd Price
#2
Pink Shoe Laces
Dodie Stevens
#3
Plain Jane
Bobby Darin
#38
Please Mr. Sun
Tommy Edwards
#11
Poison Ivy
The Coasters
#7
Poor Jenny
The Everly Brothers
#22
Pretty Blue Eyes
Steve Lawrence
#9
Primrose Lane
Jerry Wallace
#8
Put Your Head on My Shoulder
Paul Anka
#2
Ragtime Cowboy Joe
The Chipmunks
#16
Ring-a-Ling-a-Lario
Jimmie Rodgers
#32
Robbin' the Cradle
Tony Bellus
#25
Run Red Run
The Coasters
#36
Running Bear
Johnny Preston
#1
Sandy
Larry Hall
#15
Say Man
Bo Diddley
#20
Scarlett Ribbons
The Browns
#13
Sea Cruise
Frankie Ford
#14
Sea of Love
The Twilights
#2
See You In September
The Tempos
#23
Seven Little Girls Sitting In the Back Seat
Paul Evans
#9
She Say
The Diamonds
#18
Shimmy, Shimmy, Ko-Ko-Bop
The Imperials
#24
Since I Don't Have You
The Skyliners
#12
Since You've Been Gone
Clyde McPhatter
#38
Six Nights a Week
The Crests
#28
Small World
Johnny Mathis
#20
Smoke Gets In Your Eyes
The Platters
#1
So Close
Brook Benton
#38
So Fine
The Fiestas
#11
So Many Ways
Brook Benton
#6
Someone
Johnny Mathis
#35
Sorry I Ran All the Way Home
The Impalas
#2
Stagger Lee
Lloyd Price
#1
Story of My Love
Conway Twitty
#28
Sweet Nothin's
Brenda Lee
#4
Sweeter Than You
Ricky Nelson
#9
Swingin' On A Rainbow
Frankie Avalon
#39
Take A Message To Mary
The Everly Brothers
#16
Talk That Talk
Jackie Wilson
#34
Talk to Me
Frank Sinatra
#38
Tall Paul
The Afterbeats
#7
Tallahassee Lassie
Freddy Boom-Boom Cannon
#6
A Teenager In Love
Dion
#5
Tell Him No
Travis & Bob
#8
Thank You Pretty Baby
Brook Benton
#16
That's Why I Love You So
Jackie Wilson
#13
The Three Bells
The Browns
#1
The Tijuana Jail
The Kingston Trio
#12
There Goes My Baby
The Drifters
#2
There Must Be a Way
Joni James
#33
This Friendly World
Fabian
#12
This I Swear
The Skyliners
#26
This Should Go On Forever
Rod Bernard
#20
Three Stars
Tommy Dee
#11
Tiger
Fabian
#3
'Til I Kissed You
The Everly Brothers
#4
'Till There Was You
Anita Bryant
#30
Tomboy
Perry Como
#29
Tragedy
The DeLons
#5
Tucumcari
Jimmie Rodgers
#32
Turn Me Loose
Fabian
#9
Twixt Twelve and Twenty
Pat Boone
#17
Uh! Oh! Part 2
The Nutty Squirrels
#14
Unforgettable
Dinah Washington
#17
Venus
Frankie Avalon
#1
The Village of St. Bernadette
Andy Williams
#7
Waterloo
Stonewall Jackson
#4
Way Down Yonder in New Orleans
Freddy Cannon
#3
The Way I Walk
Jack Scott
#35
We Got Love
Bobby Rydell
#6
What A Diff'rence A Day Makes
Dinah Washington
#8
What Is Love?
The Playmates
#15
What'd I Say Part 1
Ray Charles
#6
Where Were You on Our Wedding Day?
Lloyd Price
#23
Why
Frankie Avalon
#1
With Open Arms
Jane Morgan
#39
With the Wind and the Rain In Your Hair
Pat Boone
#21
The Wonder of You
Ray Peterson
#25
Wonderful You
Jimmie Rodgers
#40
A Worried Man
The Kingston Trio
#20
You Better Know It
Jackie Wilson
#37
You Got What it Takes
Marv Johnson
#10
You Were Mine
Fireflies
#21
You're Gonna Miss Me
Connie Francis
#34
You're So Fine
The Falcons

#17
Tommy Facenda turned the novel "High School U.S.A." into a Top 30 hit in 1959. What evolved as the most nonconforming hit of the rock era began simply enough in Norfolk as a musical tribute to some Virginia high schools. While popular in Virginia, the tune drew very little interest in the other 49 states. Realizing the nationwide potential of "High School U.S.A.," Facenda recorded a template track, of sorts, with generic lyrics that do not refer to any specific areas. Then Tommy separately recorded 28 different tributes to selected regions, which, when edited into the master template, gave listeners the names of local area high schools. The editing is so well done that teens in Connecticut had no idea the folks in California were hearing a completely different list of schools. Crosby and other Waterbury high schools are mentioned on the Hartford Area version (Atlantic 45-64).
Listen to the Pittsburgh version of "High School U.S.A."
(Click on the Pause or Stop button on the bottom of this page before playing)
Listen to some other 1959 Top 40 hits
(Click on the Pause or Stop button on the bottom of this page before playing)