(If you arrived on this page directly from a link on a search engine or another website and want to take this online vintage images tour of Waterbury from the beginning or create your own customized tour, click here)
OVER THE LINE
VINTAGE VIEWS IN ADJACENT TOWNS & BEYOND
---
EAST OF TOWN
Blackie's Hot Dog Stand in Cheshire just over the Waterbury town line opened in 1928 and is famous for its hot dogs which are cooked in oil (not fried). The place started as a gas station but the real money-maker was the hot dogs so they removed the pumps for parking. The unique hot-pepper relish is made the same as when Blackie's first opened.
The building is made of two octagonal structures joined in the middle by a double garage door. The roof is outlined in red neon and two working, multi-color neon signs are on both ends.
The Waverly Inn, owned and operated by Waterbury restaurateur Rocco Diorio, offered a more upscale dining experience in Cheshire.
(Wolcott Historical Society photos)
Back in the '30s & '40s, before there were motels, "motor courts" like the Putt Meadow and Iceland on Meriden Road (Route 14 until 1941, then Route 6A) in Wolcott near Lake Hitchcock provided overnight accomodations in small cottages or cabins away from the center of town for car travelers.
X-TRA soda was produced in 30 flavors at a small bottling plant on Munson Road in Wolcott in the 1940s and 1950s. It was a family-run business started by Mr. and Mrs. Morris Relyea in the 1940s. Rather than purchasing X-TRA at a grocery store, trucks delivered cases of soda to homes throughout Wolcott, Waterbury, and Bristol. During the 1955 flood, people were welcomed to the bottling plant to fill containers with well water at no charge.
Southington Mountain Road was part of US Route 6A, which was the main road from Waterbury to Hartford. It is now the Meriden-Waterbury Turnpike, Route 322. In the 1950s, Connecticut started planning an expressway for US 6A, which eventually became I-691. As I-84 opened, the western portion of US 6A became less important, and in 1968 all of US 6A was broken into Routes 64, 322, and 66, as well as local streets in Meriden and Waterbury.
Lake Compounce in nearby Bristol was a favorite destination for summer fun. Local entertainers appeared as a weekly attraction on the lakefront stage and featured such talent as Tex Pavel, Colonel Clown, and Slim Coxx and the Cowboy Caravan.
Most big bands played the Lake Compounce Ballroom in the '40s & '50s, like Tommy & Jimmy Dorsey, Benny Goodman, Count Basie, Stan Kenton, Woody Herman, and Maynard Ferguson.
The Oakdale Musical Theater in Wallingford opened in 1954 under a tent in the middle of an alfalfa field, and many of the greatest names in entertainment appeared there in the '50s & '60s. Starting as a summer stock theater, the facility has grown over the years. In 1972 the tent was replaced with a wooden dome that accommodated 3,000 seats.
---
WEST OF TOWN
The railroad track arch over Whittemore Road (now Route 188) in Middlebury was about six miles from the Hotel Elton.
Westover School for Girls on the Middlebury Green (named after its location as west over the hills from Waterbury) was founded in 1909 by Mary R. Hillard and Theodate Pope Riddle. It was one of the first institutions to have an electric kitchen. It also had its own power, water and septic system, and a central vacuuming system still in existence today. Many of the vegetables served in the dining room came from a large garden on the property.
The Quassy Amusement Park on Lake Quassapaug in Middlebury is one of only 11 "trolley parks" still operating in the nation. The 20-acre park, simply called Quassy today, was founded in 1908, the same year a trolley line from Waterbury to Middlebury was completed. In 1937, three Waterbury businessmen bought the property and soon added a picnic area, paddle boats and a carousel. Within the next few years a hot dog stand, a roller rink and a tearoom were added. It was after World War II that Quassy established itself as an amusement park.
Interest in the park continued to grow following the war, and more rides were added in 1948, including a thrill ride called the Octopus.
Visit The Little Peoples' Village in Middlebury
The Taft School, a private coeducational prep school in Watertown, was founded by Horace Dutton Taft in 1890.
Some of the businesses in Watertown in 1961. Being a small town, most were on Main St.
Many Waterburians still make a trip to the Post Office in Bethlehem every year during the Christmas season to get their Christmas card envelopes stamped with a Bethlehem "Christmas Town" stamp. Postmaster Earl S. Johnson designed the first Christmas Cachet at the Bethlehem Post Office in 1938, and began the yearly tradition of applying decorative rubber stamps to Christmas cards and letters there. The popularity of this unique Christmas endorsement has been faithfully continued by both the residents and visitors of this community. Today, there are 69 different Christmas cachet designs available to the general public for use at the Bethlehem Post Office.
Some Waterbury drinking water comes from the Wigwam Reservoir, which is actually on the Shepaug River in Morris CT, a few miles from Bethlehem.
---
NORTH OF TOWN
The Seth Thomas Factory in Thomaston was once home to the most famous name in American clock making. The company was founded by a former employee of clock-making pioneer Eli Terry.
The Torrington Company in Torrington can trace its roots to 1866 when it started with just six employees as the Excelsior Needle Company manufacturing sewing machine needles. The successful business rapidly grew and by the turn of the century the firm, now known as the Torrington Company, was producing many types of needles for fabric sewing, shoemaking and knitting machines. They also produced household electrical appliances in the 1920s. During the 1930s the company began manufacturing bearings for the automotive and other industries. By their 100th anniversary, the firm's success began to attract outside interest in a possible merger or acquisition. The match was made when Ingersoll-Rand Company purchased the firm in 1969 as a wholly owned subsidiary. Since then, the Torrington Company has continued to expand its technology and today is a worldwide leader in the production of precision bearings, motion control components and automotive steering assemblies.
Camp Darmoore was evidently a YMCA summer camp for boys from Waterbury and towns north (like Torrington and Winsted) in the early 1900s. Its location is unknown.
Camp Mattatuck on Mt. Tobe Road in Plymouth was the Waterbury Boy Scouts summer camp. The Mattatuck Council, Boy Scouts of America, purchased 170 acres in 1938 and the camp opened in 1939. The original 170 acres included wooded areas, open fields and Lake Kenosha. The first campsites were built overlooking the lake on the west.
---
SOUTH OF TOWN
Naugatuck High School was built in 1905 and was considered state of the art for its era. Hillside Avenue wraps around three sides of the building, which gives it a unique distinction that once garnered Naugatuck national attention. The high school, now the Hillside Middle School, appeared in a 1933 Ripley's Believe It or Not feature. It has three floors, each with an entrance or exit onto the same street.
The Litchfield Rubber Co. moved to Naugatuck in 1847, and the name was changed to Goodyear's India Rubber Glove Mfg. Co., as it began to manufacture rubber gloves for telegraph linemen. It was the only company in which Charles Goodyear is known to have owned stock.
By 1892, there were many rubber manufacturing companies in Naugatuck, as well as elsewhere in Connecticut. Nine companies consolidated their operations in Naugatuck to become the United States Rubber Company. From 1892 to 1913, the rubber footwear divisions of U.S. Rubber were manufacturing their products under 30 different brand names, including the Wales-Goodyear Shoe Co. The company consolidated these brands under one name, Keds, in 1916, and were first mass-marketed as canvas-top "sneakers" in 1917. These were the first sneakers.
Speaking Of Rubber, a 1951 film produced by the U.S. Rubber Co., has street scenes of Naugatuck and the old high school.
Due to an increase in the price of sulfuric acid, which was needed for the process then used for reclaiming old rubber, the United States Rubber Co. formed the Naugatuck Chemical Company on June 1, 1904. Soon the new company was manufacturing many different acids and the company that would be in the forefront of the chemical industry in the United States was born to its parent, the rubber industry.
Naugatuck Chemical remained a subsidiary to U.S. Rubber Co. until, under Uniroyal, it gained independence as Uniroyal Chemical Co. Their chemical waste discharges polluted the Naugatuck River and produced noxious odors in the area for decades until they ceased operations in the late 1970s. Uniroyal is now Chemtura Corp. and is headquartered in Middlebury. The company still has more than 40 buildings on Elm Street, but only about 50 people work there. Chemtura plans to demolish all but five to ten of its Naugatuck buildings by 2008.
The Naugatuck Malleable Iron Company was founded in Naugatuck in 1858. It was incorporated in 1912 as the Eastern Malleable Iron Company with the consolidation of the Bridgeport Malleable Iron Company, Vulcan Iron Works, Naugatuck Malleable Iron Company, Troy Malleable Iron Company, and Wilmington Malleable Iron Company. The company was engaged in the manufacture of of certified malleable iron, gray iron, and semi-steel castings: also wagon wheel bands, electrical brackets and tank lungs. The company is still in operation in Naugatuck as the Eastern Company.
The Waterbury National Bank at 198 Meadow St. in Naugatuck officially opened April 11, 1964. The spectacular roof was poured in one day and consists of 675 tons of lightweight aggregate concrete reinforced with 30 tons of steel. The building is now an Irish Dance School.
The Peter Paul Candy Co. was the brainchild of Peter Paul Halajian, an Armenian immigrant, who in 1919 had started in the candy business by making candy in a loft on Webster St., in New Haven, CT. His first ingrediated product, called the "Konabar", was a blend of coconut, fruit, and nuts covered in chocolate. As demand for his products grew, in 1922, with the financial backing of fellow Armenian friends, he bought the property on New Haven Road in Naugatuck and built his first manufacturing plant. In 1924, he introduced the Mounds candy bar to the market. Almond Joy was introduced in 1946. The candy bars are essentially the same formula today, and the Naugatuck plant is still making them and other Peter Paul candy bars as a Hershey Chocolate company.
Update 4/26/07- The Hershey Co. announced yesterday that it will close the Peter Paul Hershey factory in Naugatuck by the end of the year and move production of its Mounds and Almond Joy candies to Virginia.
The Risdon Manufacturing Company, established in Naugatuck around 1910, began by producing safety pins. Local housewives and children were often hired to attach the pins to cardboard for easy sale. Risdon became the manufacturer of total packaging for cosmetics, personal, household and other consumer products and home sewing notions such as common pins, needles, snaps and other accessories. It is now Crown Risdon USA located in Watertown CT.
A view of the Whittemore Bridge on Maple Street and buildings on old Route 8 (Main St.) in Naugatuck at the height of The Great Flood of 1955.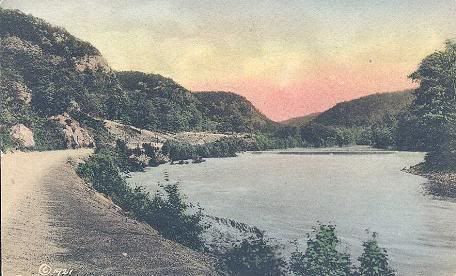 Two views of Route 8 which parallels the course of the Naugatuck River on its east side between Naugatuck and Beacon Falls, when it was named Naugatuck Valley Blvd.. A separate two lane highway for northbound traffic was created on the trolley roadbed up the hill on the left when the trolley stopped running in the late 1930s, but was abandoned when the Route 8 Expressway was built over the southbound roadway next to the river in the 1970s.
Motoring south of Waterbury by the Naugatuck River was an adventure 90 years ago. Here are the directions for the Waterbury to Derby portion of a trip to New Haven from the 1917 Automobile Blue Book:
Route 121—Waterbury to New Haven, Conn..9 m.
Via Naugatuck and Beacon Falls.
All State road.
MILEAGE
Total Intermediate
0.0 0.0 WATERBURY, S. E. cor. of Center Square. Go south on S. Main St. Caution—just beyond the starting point, Bank St. forks right- be sure to avoid it.
Go under RR. and across iron bridge 0,8.
1.2 1.2 Fork; keep right with trolley.
2.7 1.4 Fork; keep left, meeting trolley.
4.9 2.2 Naugatuck, 4-corners. Straight thru with trolley.
5.2 Ü.3 Water-trough in fork; bear right—sign "Seymour." Caution for blind turns along river.
8.7 3.5 Beacon Falls. Straight thru with trolley.
10.1 1.4 3-corners; bear left, joining trolley 11.5.
11.8 1.7 Fork; bear left upgrade, leaving trolley.
12.4 0.6 3-corners; bear left—sign "New Haven."
14.0 0.6 3-corners beyond small cemetery; turn left, avoiding left fork just beyond.
15.5 1.5 Fork; bear left
16.0 0.5 End of road at elm tree; turn right.
Bethany Airport in nearby Bethany CT was considered Waterbury's airport from when it opened in 1923 until it closed in 1965. It had two grass runways and was very well known in the 1920s & 1930s when many famous pilots visited there, including Bert Acosta, a pioneer of commercial aviation in Connecticut.
This trolley made the trip between Waterbury and Derby. Riders could transfer in Derby to go to New Haven and Savin Rock in West Haven in the summer.
Savin Rock was a turn of the century resort in West Haven. There were elegant hotels and restaurants, and a gigantic amusement park right upon the beach. There was swimming, biking, boating, fishing, and picnics. But what set Savin Rock apart from other resort areas was its theme park, White City. The rich folk, along with the working families, flocked there every summer. Rides there, such as the "Chutes" (a water ride) were prototypes for what was to be found many years later in modern day theme parks. Also inside of White City was a dance hall, a theater, a cafe, a Castle, a Fun House, a carousel, a Railroad, and the Hoosac Tunnel, a zoological garden with all sorts of animals. "Laffing Sal" was probably one of the most memorable features of Savin Rock. Her eerie laughter resonated from a tower above the Death Valley Fun House from 1938 until the park closed in 1967. Sal's bright red hair, huge towering moving figure and loud boisterous laugh are etched in the mind of everyone who saw her as a child. Most were terrified of her – and many still remember that fear when they see her now some 50 years later.
The Waterbury Pen Company kept their name when they moved to Bridgeport CT in the 1940s and then to Stratford CT,
as did the Waterbury Lock & Specialty Company (WALSCO) which started operations in Waterbury in the late 1800s, but moved to Milford CT in the 1930s.
The city of Bridgeport is responsible for the first frisbee. It all started in 1871 when William Russell Frisbie moved to Bridgeport from Branford, where his father, Russell, had operated a successful grist mill to manage the local branch of the Olds Baking Co. He eventually bought the bakery on 363 Kossuth Street and renamed it Frisbie Pie Co. W.R. died in 1903 and his son, Joseph P., manned the ovens until his death in 1940. Under his direction the small company grew from six to two hundred and fifty routes, and shops were opened in Hartford, Connecticut; Poughkeepsie, New York; and Providence, Rhode Island. His widow, Marian Rose Frisbie, and long-time plant manager, Joseph J. Vaughn, baked on until August 1958 and reached a zenith production of 80,000 pies per day in 1956.
Some Waterburians escaped the summer heat in the city for a week or two every year by renting a cottage in Milford at Cedar Beach, Walnut Beach, Gulf Beach, Bay View Beach, Anchor Beach, Crescent Beach, Hawley Ave. Beach, or Middle Beach.
---
QUASSY MEMORIES
From "NHRR Waterbury" (Alexandria, VA): Quassy park in Middlebury was the only amusement park I knew as a kid. The CR&L (Connecticut Railway and Lighting) trolley from Waterbury passed Lake Quassapaug on its way to the Woodbury turn-around at the bottom of Ben Sherman hill. Quassy was built on the south shore of the lake.

It boasted a Merry-Go-Round with hand-carved horses (I still remember the Wurlitzer music maker and the "Injun Room" sign on the door), a shooting gallery, roller-coaster (The Wild Mouse) and several other rides. But for those of us who grew up around Quassy, we remember it best as the site of the best clam bake pavilion in southern CT. My dad worked for Southern New England Telephone and my mom worked for American Brass. Every summer, the companies would each hold a clam bake for employees and families at Quassy. Circling the pavilion and large open field was a scale model railroad, complete with tunnel, crossing gate and gasoline-powered locomotive. We would ride on the rides while the adults made the clam bake. Then after eating we played games in the field and took rides on the train. On a hot day, a swim in the lake helped us cool off. As a kid, it didn't get any better than that!

Quassy is still there, but much has changed. The Merry-Go-Round was dismantled years ago because of insurance concerns, and one by one the other rides closed up. Some things can only truly live in our memories.
SAVIN ROCK MEMORIES
As a little girl, Edith Reynolds was lucky to have the West Haven amusement park Savin Rock practically in her back yard. All summer long, Reynolds and her cousins enjoyed the fun house, games of chance, roller coasters and flying horses.
One can imagine her disappointment when the best thrill in town closed down. Reynolds, co-owner of John Bale Books in Waterbury, was in junior high in the mid-1960s when she and fellow students were told, during an assembly, that the seaside park would be no more. "Kids started screaming and going nuts," said Reynolds, who grew up in New Haven and whose grandmother lived a few blocks from the park. Situated on the western shore of New Haven Harbor, Savin Rock had been a popular destination since 1870.
Given her happy memories of the recreation area, it was natural that she would write the Postcard History Series' "Savin Rock Amusement Park" from Arcadia Publishing. The book, which includes 225 black-and-white postcard images of Savin Rock, including historical information, premiered in June, 2006.
For years, collectors have come into the used book store Reynolds and her husband Dan Gaeta own seeking Savin Rock memorabilia. "They wanted everything and anything about it," she said. "And very little had been done, other than a paperback book that is out of print and now trades for $162." Reynolds' book is $19.99.
About two years ago, she asked a representative from Arcadia Publishing if anything on Savin Rock was in the works. Nothing was, so she took on the project herself. She went to Ron Guerrera, owner of Mattatuck Antiques in Waterbury, and asked to borrow his collection of Savin Rock postcards.
"I'd been collecting them for about 25 years because of my love for amusement parks," said Guerrera, who visited the park in his youth. "I just remember enjoying the variety of rides and the ambience."
It was a place where Yale students mixed with blue-collar workers, where a mechanized "laughing lady" cackled from 10 a.m. to 11 p.m. Roller coasters soared, bumper cars collided and popcorn and cotton candy were abundant. "People from Waterbury used to take a bus from The Green to get there," Reynolds said of the popularity of the park.
---
Did you enjoy the tour? Did you live in Waterbury in the '40s or '50s? Please post your comments about the tour and/or your Waterbury memories in our Guestbook. Please note that only a Guestbook posting of 100 words or less will display completely after you post your entry. Do not use the Guestbook if you would like a reply to your note, email me instead.
Do you have more than 100 words of Waterbury memories? Send them to me at anexwaterburian@yahoo.com and I'll include them in the Brass City Memories.
If you have a postcard or photo of a vintage Waterbury scene that you would like me to add to the site, email it to me as a .jpg format file attachment, and include a description of what it is in the body of the message.
MORE VINTAGE VIEWS OF WATERBURY ON ANOTHER WEBSITE