These are various pictures I have done . Please revisit my site often, you never know when I am going to add another picture.
Butterfly with a dark background.
This clown fish was one of the first colored pencils pictures I drew after I started with my art again. I recently found it after I remembered that I had a black paper sketch book.
Here is a fish paper weight picture drawn from a photograpgh I did as a drawing challenge on Drawspace. It is done on canson watercolor paper and done with Derwent Watercolor Pencils. Right now the picture is dry as I liked it as is without adding water to it for a "watercolor affect".
This picture was drawn from Diane Trierweiler's book "Painting Country Cottages and Gardens". The book normally teaches you to teach in acrylic paints but I preferred the use of my trusty watercolor pencils. Complete 3-28-07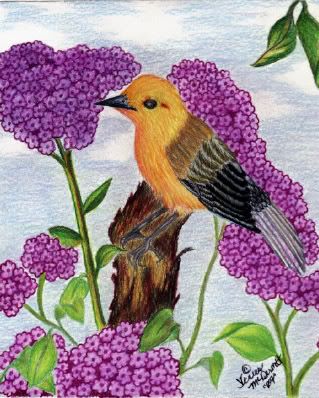 My newest finished picture. Done in colored pencils on canson acrylic textured paper. I did this one for my Spring Fever. Completed 4-25-07.
This next picture was done and inspired out of my love for dolphins. Since I was a little girl in elementary school and saw my first dolphin poster, I have had a love for them. As I got older my desires and adoration to become an artist of some sort has grown. I did this next picture I call "A Mother's Love" from a reference photo I have of a mother and baby dolphin swimming in the ocean. It is my first attempt of drawing and painting them in colored pencil and I am quite happy with the results.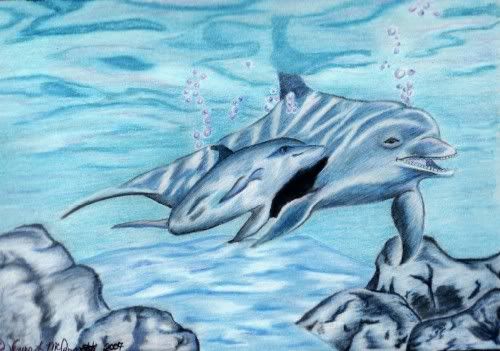 This next picture was recently completed by me in colored pencils 7-17-07. It is an Iris flower that I did on Drawspace as a Drawing Challenge but also another of my favorites. I love the beauty Irises pocess. So here is another of my beauties...
Now this next picture is one I did in soft pastel pencils. I have never before played with them or used them in anyway and used them very much like I was using one of my Prisma's. I think for it being a first attempt that the picture came out quite good, so therefore am proud of the detail I accomplished with my roses.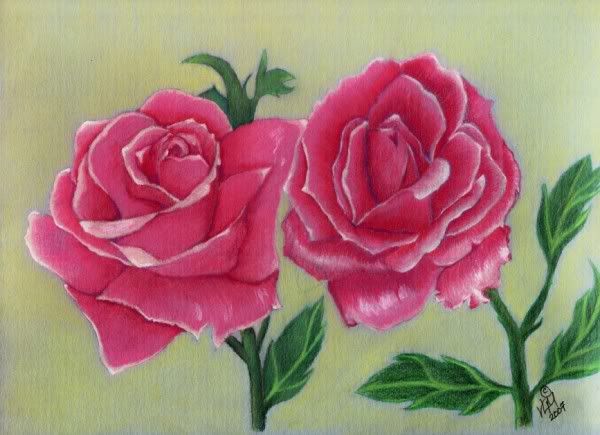 This is my most recent picture done in colored pencil. The original is 11 by 14 on Strathmore Bristol Smooth paper. I have to say out of all of my colored pencil drawings, this one has taken me the longest spending over 20 hours on it and well worth the time. It was completed on 7-29-07.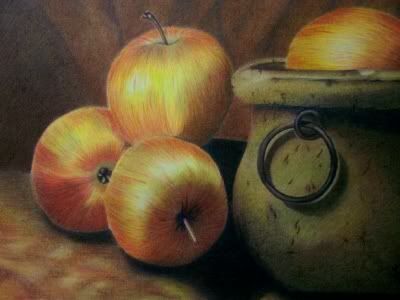 This is another colored pencil drawing I did that I call Romance. Completed in August 2007.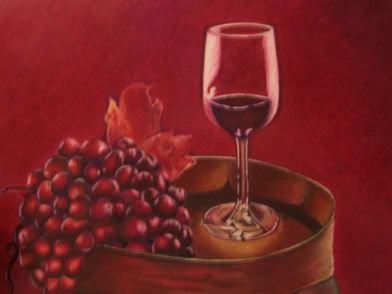 Here is another picture I did on Aug. 31st, 2007. For those that do not know this particular flower it's called a Black Calla Lily. I was fascinated with the colors and with my love for colored pencils I had to draw it.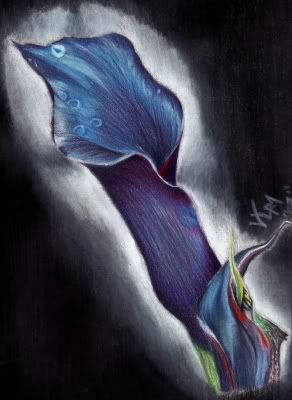 This one finished Sept. 10th, I call "Nature's Beauty Drops". I did it using my new Derwent Coloursoft colored pencils. I have to say they are quite yummy, with their unique smoothness and rich color. I would say the total time spent on this picture was about 18 hours and worth every last one!!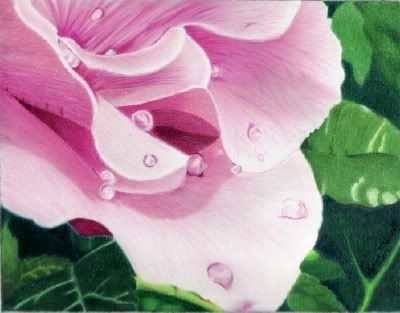 Here is the newest one by me, completed 2-01-08, yes, it is the first of 2008 for me, called "Baby Wings Need A Rest". I am currently going to have a couple of slides made for this picture and I am submitting it into the "Lotus Color Pencil Exhibit" that will be showing art work from many wonderfully tallented Color Pencil artist here in Michigan during the month of April.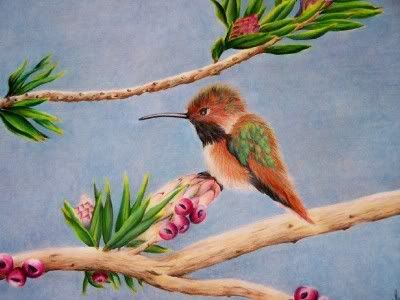 Here is a Victorian era teacup I found at my friends house. I just fell in love with it and the details so I snapped a pic on the digital and brought it home. After completing the humminbird picture, I started this one. I really have to say this is by far my favorite..Completed 2-10-08...I am calling it "Victoria Tea Time".