The 106th Infantry Division "Golden Lions"
2nd Lieutenant OLIVER B. PATTON (423/F)
Displayed here is Oliver Pattons USMA Bugle Notes Booklet
which is marked on the inside:
"Cadet O. B. Patton, Company M, Corps of Cadets, West Point"

On the next page another inscription
"Oliver Patton (signature), Fort Knox Kentucky -1942"
Oliver Beirne Patton graduated at West Point on June 6th, 1944 together with George Patton's son. Oliver Patton became a Second Lieutenant in the 106th Infantry Division. He commanded the second platoon in Fox Company, 2nd Battalion of the 423rd Infantry Regiment during the first days of the Battle of the Bulge.
He was shot by a German Volksgrenadier when his platoon was overrun.  Left with the wounded at the abandoned aid station, Patton was captured.  He spent the next months in a series of German hospitals and POW camps.

QUOTE:

Well, starting at noon, we went to hell in a hand basket. As soon as we got into the woods, we ran into Germans and as we pushed forward, we ran into more and more Germans until by the time we got to the road that we were supposed to cut and go across, we were just backed up. It was a heavy firefight. There was a lot of fire. My platoon was just melting away.

I went back and found the company first sergeant, who said, ''There's an order for us to pull out, come back.'' And in the dusk, I saw a man and I yelled at him to -- I'm sure fairly obscenely -- to get his ''act'' out of there, that we were leaving, and he wasn't mine, he was a German and he shot me.

And I was put in the aid station and I remember during the night the chaplain came to me and said, ''Ollie, we got to go, and we're going to leave those of you who cannot walk in the aid station under the care of a medic, a soldier who's volunteered to look after you.'' And it dawned on me then that things had gotten serious, that-- you don't abandon-- you don't leave your wounded, you get them out. And what he was telling me is, ''We can't get you out.''
Together with the rest of the 423rd regiment he surrendered on December 19th, 1944. He was interned at Stalag IXC at Bad Sulza Saxe-Weimer.

During the 1950ies, he served in Korea, where he was wounded again.  Afterwards, Patton became assistant chief of staff for XXIV Corps in Vietnam in the late 1960s. During his last tour of duty, he was assistant chief of staff for Army intelligence at the Pentagon.

He retired from the army as a Brigadier General, who was Executive Secretary of the U.S. Capitol Historical Society from 1974 to 1979.
Sadly, he died from congestive haert failure on September 15, 2002, in his home at Fort Belvoir.
Among his decorations are:
Army Distinguished Service Medal
three awards of the Legion of Merit
three awards of the Bronze Star and
three awards of the Purple Heart.
Combat Infantry Badge
WWII Victory Medal
WWII Good Conduct Medal
WWII American Campaign Medal
WWII EAME Campaign medal with three campaign stars
etc.
Patton was also an author. Beginning in 1976, five of his historical novels were published. The last of them, "The Silent Snow," was a story about the Battle of the Bulge from a foot soldier's view. Main character Lt Adam Talcut is obviously based on himself.

Some of his other novels are: "The Hollow Mountains", "The Mojave Desing" and "My Heart Turns Back"

THE SEVEN SAMURAI by Oliver Patton
From West Point to a Stalag with the class of '44

On 6 June 1944 storm clouds threatened, so Major General Wilby moved the commencement ceremony under cover, and Lieutenant General Brehon Somervell, commanding Army Service Forces, walked in front of the stage erected in the cavernous field house.  He didn't give us the old, comforting words about "bid farewell to Cadet Gray and don the Army Blue".  He hit us on the head. "This morning", he said, "Allied Naval forces, supported by strong Air forces, began landing allied armed forces on the northern coast of France".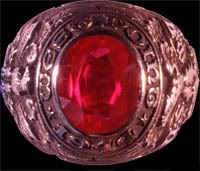 USMA ring for the class of 1944. (USMA)
Three years earlier, the Japanese had bombed America into a war that shortened our West Point stay by a year and forced Herff-Jones to change the 1945 on our class rings to 1944.
Now, that war had flung American ground forces against Germans in France, and we would join them. "Maybe not,", said the sages.  "It will be over by Christmas."  We have heard that in every war since, but in 1944 we believed it.  Forget France, we told ourselves.  There's a war in the Pacific and sake for the winner.

Our ground warriors scattered for a short leave on their way to more education at schools where they issued no hop shoes or red saches : Belvoir, Sill, Riley, Davis and Hood.
To Fort Benning, home of the Queen of Battle, went our infantrymen.

West Point taught us things like the Calculus; Fort Benning taught us how to stay alive until you could use it.  Not all bad.  Weekends you crossed the Chattahoochee River to wild, free Alabama and a roadhouse where you got a big cup of ice and a Coke or ginger ale for 50 cents.  What else went into the cup was your choice as long as you kept it in a brown paper bag.

Monday morning you trudged into the sand hills of Georgia singing another song, one that began with "High above the Chattahoochee, near the Upatoy…" but got serious at the end:


Onward ever, backward never,
Follow me and die,
To the Port of Embarkation,
Next of kin, goodbye.

Suddenly, the war in Europe wasn't going to be over by Christmas, and a 2nd Lieutenant of infantry in that fight had an average combat life expectancy of ten days before he was killed, wounded or missing in action.

Fort Benning cut our course to twelve weeks, but the Army didn't want us to go to war as individual replacements; after Benning we would join a division still in training in the USA.  West Point had told us that in a memorandum issued in May of 1944.  "Tentatively,"it read, this is "a list of unit and station assignments for cadets who will be commissioned in Infantry, Field Artillery and Cavalry upon graduation."

Ten infantrymen of the Class of 1944 learned that they were slated for the 106th Infantry Division at Camp Atterbury, Indiana.  Three went elsewhere, but the remaining seven left Fort Benning the last day of September with no delay en route:  Bob Wessels, Jim Giles, Howard Richards, Kern Pitts, Ollie Patton, George Wear and Tom Lawrence.  The Seven Samurai: first members of the class of 1944 to go into combat with and infantry unit.
The handwriting was on the wall by the time we got to Camp Atterbury.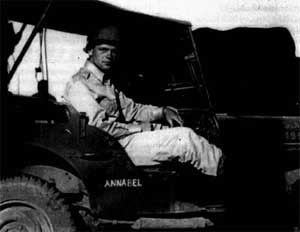 Oliver Patton as a 2nd Lieutenant at Camp Atterbury.  The Jeep is named after his fiancee, Annabel.  (Webmaster's Collection)
"Patton," said his regimental commander, "have you got an automobile?"
"Yes, Sir."
"Get rid of it. Now!"


Two days later the division advance party left for Camp Myles Standish in Massachusetts.  In those days, people went to Standish for only one purpose:  on 10 October the rest of the division followed, on it's way to Europe.

The 106th Infantry Division, activated in March 1943, had training as good as or better than any division still in the United States, but it was drained by the war overseas.  Before it shipped out, almost sixty percent of its enlisted men had been stripped from the division as replacements.  To replace them, the 106th received drafts from the Army Specialized Training Program in colleges and universities, from the Army Air Forces, replacement depots, Service Forces, as well as volunteers from anti-aircraft, coastal artillery and military police units.  Good men, but few were trained as infantrymen, and the 106th had no time to remedy that.

The three infantry regiments of the 106th were numbered the 422nd, 423rd and 424th.
My friends, remember the heavy hand of your academic standing at the USMA.  The Seven Samurai were assigned to those regiments in order of their class standing:  Wessels and Giles, our intellectuals to the 422nd; Richards, Pitts and Patton to the 423rd; Wear and Lawrence, the goats to the 424th.

Between 19 October and 17 November the division assembled in England.  There was a sort of training there.  Patton saw his regimental commander to answer a charge of aborting pregnant sheep when his platoon fired blanks near the local flocks.  By December 6th the 106th was ashore in France, assigned to the First US Army and attached to VIII US Corps.

We were ordered to take over a sector of the line held by the veteran 2nd Division.  "Replace them man for man, gun for gun", they said, "and hurry".  The 2nd was going north to attack the dams on the Ruhr River. They left us what they called a prize: 22 miles of front just across the Belgian border in Germany, eight miles of it a salient sticking into the German lines along a high ridge called the Schnee Eifel.  "No sweat", said old hands in the 2nd.  "This is the Ghost Front. No fighting.  They put you here to learn your trade".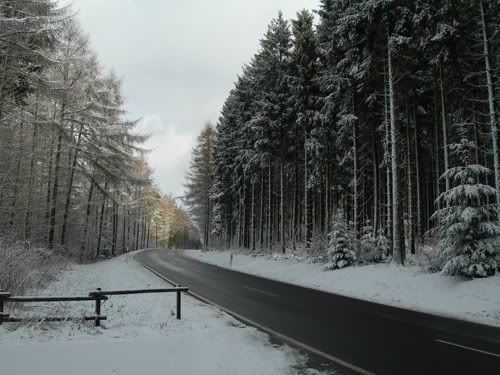 The Schnee Eifel: here the 106th's first infantry positions. (Photo by Webmaster)
It is not precisely correct to say that the Seven Samurai were the first USMA 1944 to go into combat.  We didn't go, it came to us –in the dawn of 16 December 1944- when Adolf Hitler launched his last desperate offensive of the war.

Two divisions of German Volksgrenadiers stormed into us, reinforced by a brigade of assault guns and some of Hitler's lesser innovations: machine guns that didn't go "bop…bop…bop" like ours but coughed out an awesome "br…up!"; six-barrel launchers on wheels firing 150mm rockets.  Coming at you, they made a noise like wet brakes, and they weren't very accurate, but when those things hit it was Apocalypse Now.

All that came out of the fog at us in the dawn of December 16th.  We thought they were tanks, but the things on tracks were only Sturmgeschütze – assault guns.  They looked like a tank, made noise like a tank, and had a big cannon sticking out in front.  When you shot at them, it annoyed them.

We had gone into the line in neat order:  422nd, 423rd and 424th regiments, from north to south.  On our left, in the Losheim Gap, was a squadron of Armored Cavalry: light tanks and armored cars.  The Germans went trough them like cold cream trough a tin horn.

A few miles to the south, they broke trough on the boundary between the 423rd and 424th.  On the 17th, their pincers closed around the two northern regiments.

Braced by a combat command of the 9th Armored division, the 424th fought its way back to the Our River, but one of its Samurai, George Wear, was missing.  Early on the morning of the 16th, George lost a race with a German mortar shell.  He crossed the Our River in an ambulance with a "million dollar wound" that took him to a hospital in England.

The 424th joined a catch-as-catch-can defense of the town of St Vith by elements of two armored divisions and a regiment of the 28th Infantry Division.  They held St Vith until midnight of  December 21st before falling back.  Only one of the Seven Samurai, Tom Lawrence, had a piece of that epic fight.

The other five Samurai?  Gone ducks.  Bagged by the Germans with the remnants of the 422nd and 423rd Infantry Regiments who fought their way from their original positions in the Siegfried Line to a hill across the Our from the Belgian village of Schönberg.  There, what was left of their regiments dropped from the rolls of the US Army.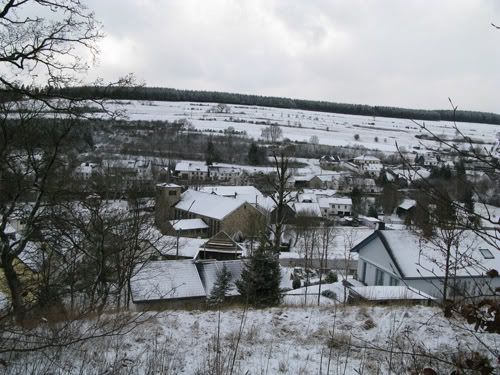 Schönberg: looking down from where the 423rd fought its last battle (Photo by Webmaster)
One of the five didn't even make it to Schönberg.  Patton's war, as described by John Eisenhower in his book "The bitter woods", lasted three days and took place in a triangle behind the Siegfried Line, three quarters of a mile on each side.  Wounded, he was left in an aid station tended by a volunteer medic.  Sometime after Wessels, Giles, Richards and Pitts were captured by the Wehrmacht, a German soldier looked into the basement housing the abandoned aid station and winked at Patton. "For you," he said, "the war is over."

Each of the remaining five Samurai, those with the higher class standing, you remember, went to a PW camp in Poland; Giles, Richards and Pitts to another at Hammelburg in northwest Bavaria; Patton toured German hospitals east of the Rhine.

About Easter of 1945, Hitler gathered thousands of POW's in a huge camp near Nuremberg in Bavaria.  Expelled from a hospital in Thuringia as soon as he could walk, Patton was shipped to Nuremberg, where he was accosted by a scarecrow in a muddy overcoat and a ragged wool knit cap.

"Ollie?"it asked,"You got a toothbrush, Ollie?" Two equally shabby tramps accompanied him.
"You all right, Ollie?" asked one.
"Got anything to eat?" asked the other.
The hygienic scarecrow was Ted Altier, USMA 1944, captured during the German drive into the Vosges Mountains of Alsace in January 1945.  The other two were Samurai Jim Giles and Howie Richards.  Their stay in at Hammelburg had been enlivened by an American attempt to free the prisoners there.  A small task-force from the Third US Army reached the POW camp, freed the inmates briefly but was overwhelmed by a counterattack.  During this wild donnybrook, Kern Pitts disappeared; no one knew where Giles and Richards were recaptured by a German farmer with a shotgun.  He turned them over to a German Army sergeant who was convinced his prisoners were Russian.
Leaving in Nuremberg those POWs incapable of walking, the Germans sent the remainder off on an erratic march south, deeper into Bavaria.  Giles, Richards, Patton and Altier went with them.  All day the prisoner column marched, halting each night in some farm village.  It appeared that the guards selected the barns of the least enthusiastic Nazis in which to billet their prisoners.  If there were no unpopular inhabitants, the prisoners slept in open fields.

The first few days were mightily enlivened by the US Army Air Corps.  They had missed the fuse factories in Furth, reduced the walled town of Nuremberg to gravel and interpreted the shabby exodus as hostile.  They strafed the POWs until the outraged reaction got their attention.  When it dawned on the pilots who they were strafing, they tossed out whatever they had in the cockpit that could be eaten or smoked.  In those days, tobacco was socially acceptable.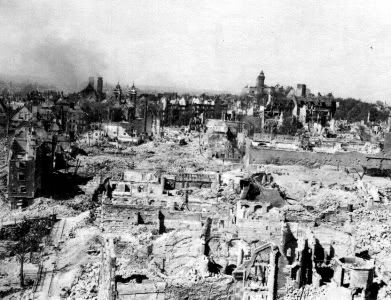 Nuremberg reduced to ashes in april 1945. (NARA) 
 The threat of air attack abated, the abiding neurosis of all POWs returned.  Food.  There was never enough of it.  The Germans issued their prisoners just enough at irregular intervals to madden and tantalize.  The principal item was something they called "Kommisbrot", a vile substance. If a fragment was cut or broken from the issued chunk, a man could soak it in his jaw until it softened enough to chew and swallow.  A better use was to put it in the thin, doubtful soup occasionally doled out at the halt of the march for the night.
The Gang of Four, organized for survival, was led by Howard Richards, a big man with a hunger to match.  He displayed such an awesome appetite as a cadet, he was christened by his classmates, "Boodler" Richards.
At every break during the march, three of the Gang scavenged for food and the fourth gathered twigs to make a fire when the column halted in the evening.  The principal item to be found beside the road in great earthen barrows was a rusty colored thing the size of a football.  Cowbeets, we called them; fodder for farm animals stored in the earth to keep them from freezing in the winter.  Peeled, sliced and boiled, it was marginally edible, but it had to be boiled.  Raw, it was impervious to man.

At evening the beets were peeled, chopped, sliced or mashed, covered with water and boiled.  But it usually took so long to boil that darkness overtook the process.  When dark fell, the German guards threatened to shoot any man who made a light, much less a fire.  There was a guard by the barn and someone traded him a cigarette butt for conversation.  It must have been the second or third week in April 1945, and he was eager to go.  "Finish," he said, "Your President Rosenfeld is dead Now you make peace."  It was startling news.  One night we caught and cooked a hen.  We named her Christine.
Christine was a turning point.  After her, things seemed better.  Now the guards paid more attention to the rumble of artillery fire, daily closer. "Nobody try to run away now"they said, "Soon the war is over for everyone."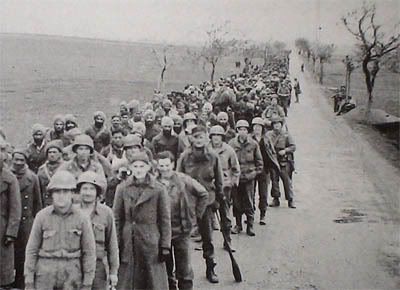 Endless column of thousands of American POWs somewhere in Germany. (BundesArchiv)
Even the Germans seemed to have no idea where we were going.  Some days we marched only a few hours.  One day we did not march at all.  American artillery drew closer and American planes swooped low, rocking their wings at us.  Someone in the headquarters of the International Red Cross in Geneva was sending great white trucks north into Bavaria, guided to us, we supposed, by the friendly aircraft.  POW parcels packed by the dozen different nations for their own men were now distributed indiscriminately to any encountered.  There was canned Australian bacon, American peanut butter and French packets with big, beautiful chocolate bars.
 Finally, our guards found a place to put us: another sprawling prison camp at a village called Moosberg on the Isar River.  We joined thousands of men from many nations.  Some had been imprisoned since 1939.  Some had been reduced to animals; others, in tattered uniforms, shaved daily, saluted their officers and took great care of one another.

Then, an elderly German officer in clean uniform and polished boots came to the senior American POW, Colonel Paul Ryan Goode, USMA August 1917, a legendary man.  Good, it was said, was the man who cut a deal with the Germans at Nuremberg.  If they could leave the sick and wounded Americans to be recovered, he would lead all who could walk in the march south.  He went south with a bagpipe under his arm, and it was whispered that in it was a POW-made radio that brought word of what was happening in the real world.  If that is not true, it ought to be.  Paul Goode was a man to do things like that.

At Moosberg his legend grew.  They say a German officer came to him to propose another deal.  The Americans would be there in three days.  If Colonel Goode would keep his men in order, the German guards would be withdrawn and he, the German commandant, would go with a flag of truce to the advancing Americans to tell them not to fire on Moosberg.

Colonel Goode must have agreed.  The German guards certainly disappeared, but before the 14th US Armored Division appeared, an SS unit got into Moosberg and there was a hell of a fight.  They say the elderly German officer came back, erect and soldierly, with tears in is eyes.  "I apologize," he told Colonel Goode,"What happened is not correct, but those people do not obey my orders."

An American tank roared into view, greeted by thousands of screaming, waving prisoners.  It smashed through the barbed wire fence, and prisoners spilled.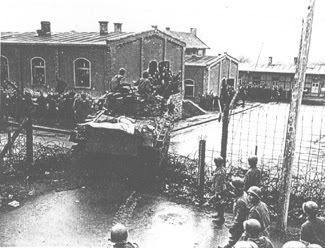 The liberation of a POW camp in 1945. This is Oflag XIII-B at Hammelburg (NARA)
Three of the Seven Samurai and Ted Altier were out of the slammer.  Our war was over.  Our classmate, Fred Black, appeared with the 99th Infantry Division. Welcomed us back to the real world and took letters from us to be mailed home.

Our liberators had more trouble with the inhabitants of the POW camp than with the SS.  American troops, still fighting a war, had small patience with us.  They told us to stay in the camp and behave ourselves.

There was still not enough food.  Richards and Patton wheeled permission to leave the camp to look for friends in passing American units.  But it was not friends they sought.  From door to door they went, demanding food for hungry POWs.  No food, said the townsfolk.  "Alles aus! Alles kaput!"
 Boodler Richards dealt with that by chalking a symbol on the inhospitable door.  When the worried owner asked what it meant, Boodler said it was the sign to tell freed Russian prisoners this was the house of a Nazi.  Out came a sweating housewife, arms full of hidden food.  In return, the housewife received grave permission to scrub the evil sign from her door.

We were taken away to a great, sprawling tent camp at Saint Valery en Caux on the French coast near Le Havre to await return home.  It was the camp named Lucky Strike; they were good to us there.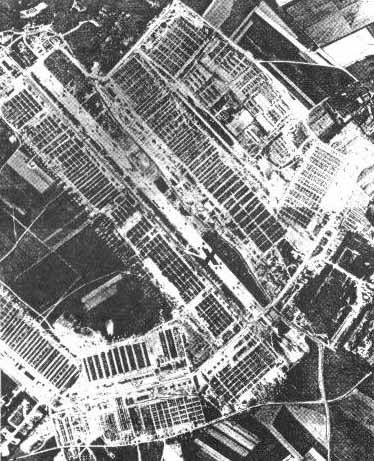 Aerial view of Camp Lucky Strike, near Le Havre in France. (NARA)
We waited for promised ships and someone complained so bitterly that General Eisenhower sent a man to tell us to shut up and be patient.  When troops bound for an unfinished war in the Pacific had been shipped out, there might be  something to take us home.  After a long time there were ships for us and we went home a little worried.  Prisoners of war were not so popular as they are of late and we wondered how we would be received; what people would say to us and about us.

It wasn't bad at all.  We had ninety days of leave.  To top that off, we learned we had been accruing first, not second, lieutenant's pay since March 1945.  Home then, to joyous parents and girls we had once known.  Many had married since we lat saw them.
Our short war was over.  All of the Seven Samurai came home alive, Ted Altier with us.  Giles Richards and Patton emerged from the chaos of the Thousand-Year Reich via Moosberg.  Kern Pitts, lost in the uproar of the American raid at Hammelburg, had been recaptured.  Bob Wessels ended his war in a POW camp near Potsdam.  When the Russian advance scattered the guards, Bob stole a bicycle and headed west.  He reached Rheims, France, the day the Germans signed an unconditional surrender in that town.  He saw Kern Pitts at Camp Lucky Strike, but the medics put him in a hospital in Paris and he didn't get home until later.  The other two Samurai of the 106th Infantry Division, George Wear and "Ski-nose" Lawrence; what of them?
George came out of the hospital in England to rejoin the 424th Infantry in Germany and sift through thousands of captured Germans, searching for those wanted for crimes.
"Ski-nose" Lawrence was the shiny side of our coin.  He fought with the 424th, the only regiment of the 106th to survive the debacle on the Our River.  They joined the troops holding the north shoulder of the German offensive and in January 1945 attacked a little town called Ennal and were stopped cold, but the 424th wouldn't quit.  The lead company stormed Ennal again, with them the regimental and divisional commanders: Colonel Reid and Brigadier General Perrin. They took Ennal; Reid badly wounded, Perrin fighting pistol in hand, with his infantrymen.

Tom Lawrence won the Silver Star fighting with the 424th.  Altogether, the Seven Samurai boasted that medal, a Commendation Medal, six Purple Hearts and seven Combat Infantryman Badges.

There are no longer Seven Samurai to tell these tales, but we call the full roll when we lift a glass to the memory of the first seven of the Class of 1944 to join the war.  No matter if the five of us had more "bad time" than good.
Oliver Beirne Patton

West Point Assembly, May 1994
Permission by Association of Graduates, USMA,
West Point, New York 10996