The 106th Infantry Division "Golden Lions"
In memory of BRUCE F SCHWALM JR. (422/3BN HQ)
Bruce F Schwalm Junior was born in Montgomery County, Pennsylvania in 1925.
Right after his 18th birthday, he enlisted in the US Army in March of 1943.  PFC Schwalm became a member of the 422nd Regiment of the newly formed 106th Infantry Division.
He was assigned as the mail clerk of the 3rd Battalion Headquarters Company.

When the 106th Division took it's positions on the Schnee Eifel front in December 1944, Schwalm was there with them.
He, now a Technician 5th Grade, was captured along with the rest of his unit on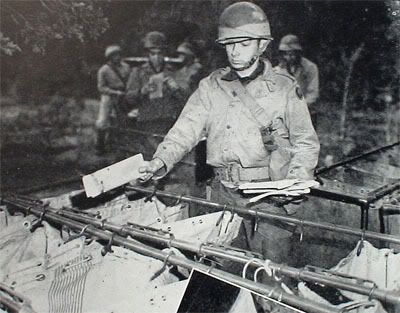 December 19th, 1944.  He, along with the others, was marched up to Gerolstein's Railway station.  This was an assembly point for POW's, from where they would be transported by train to their respective POW Camps.  The Germans lacked box cars, so a number of the men where forced to make a foot march.
Imprisoned in several Stalags, Schwalm (as many others) became sick from malnutrician and drinking unpurified water.
In many cases, the POW ate whatever they could pick up on the road.  Turnips, sugarbeets and the German Black bread, which main ingredient was sawdust.
Bruce Schwalm photographed by his buddy Dick Widmer in 1943 at Camp Jackson, SC.
What follows here, is a report of Bruce Schwalm's health situation as observed by his good friend and fellow POW, Sgt. Leo R Leisse.

From the Secret War Diary of Leo R Leisse (422/HQ)
January 2nd 1945
Stayed in boxcars all night without moving.  Taking turns standing as there isn't enough room for everyone to lie or sit down.  Bruce Schwalm is not feeling too well, even though he's one of the few with an overcoat.  …T/5 Bruce Schwalm and S/Sgt Paul Wannamaker also were on the slop can, one after another, getting weaker every trip.  It ain't funny man.

January 3rd 1945
Bruce feeling worse today.  He has pains in his back.  That is not very good as I think to myself.  I sure hope he gets better, he's a mighty fine lad.

January 7th 1945
Since we arrived at Stalag IVB, Schwalm's situation became worse.  The pains in his back become severe.  He spent another horrible night.

January 10th 1945
Schwalm still sick, tried to get him up and get outside for some fresh air and exercise. He said he couldn't and had to be excused from roll call outside.  He got permission from the hut commander.

January 11th 1945
Schwalm worse. 

January 13th 1945
Arrived at Gorlitz Stalag VIIIA.  We were placed in barracks 11B together with 256 men.
We covered Schwalm in a bunk with all our blankets when we were not using them.  I pleaded with him to answer sick call but he wouldn't.

January 14th 1945
Pleaded with Schwalm again to get to medics in the next barracks.  He wouldn't listen.  In fact, he got sore because of my insisting.  I guess I leave him be, realizing all tempers on edge.

January 15th 1945
I got the medics to take Schwalm to sick bay. I got touch of GI's during the night.  I slipped up on something I ate or drank.  Toasted all bread till it burnt black and ate something before retiring.  Got to get rid of GI's (stomach sickness) somehow or I'll be in the same shape as Schwalm and a few others in sick bay.

January 16th 1945
Visited with Bruce Schwalm.  I found he wasn't eating and the fellow next to him was gladly accepting his rations.  I asked the English Major to check him over as he was getting worse and certainly wouln't get better if he  didn't eat.  He said his foot was better, however.

During the evening the barracks leader announced that Bruce had been removed to hospital and would Section leader see to it that he received his belongings as well as take him off ration count for our section.  I felt that I accomplished something for Bruce by talking to the English Major,a doctor, who could make a difference.

January 20th 1945
I was notified of Bruce Schwalm's passing to his reward

January 22nd 1945
Worked most of the morning getting clothes ready for those volunteering to attend Schwalm's funeral scheduled for tomorrow or Wednesday.

January 23rd 1945
I have almost everyone lined up and necessary clothes are borrowed for us all to make a nice uniformed appearance, i.e., combat boots, overcoats and overseas caps.

January 24th 1945
Wednesday
Fell out for funeral at 10:00AM
Alexander, Herbst, Varallo, Rockwell, Lancaster, Macaloose, Learny, Dillon, Hargrave, Ashley, Zadroga, Pitts, five others and myself.
Pallbearers were:  Ashley, Hargrave, Myself and ?

Terribly cold, must be below zero.  Walked to gate and stood there for a while awaiting further orders.  We almost froze before being allowed to move into building nearby.
We then formed a column of 3's and marched about two miles to a cemetery.  I was almost to weak to walk and no body heat to withstand the severe cold.  The Overcoat that I borrowed sure felt good.  I couldn't have done it without it. 
The boys all marched proudly, with heads being held high when passing German civilians or troops on the road.  The Chaplain had an American flag wrapped up with wreath.
On arrival at the cemetery, we were led to a small stone building.  It might have been used as a tool shed and work room.  We were taken to the basement room at the rear.
When we got into that room, out of sight of the guards, we quickly removed the flag and draped it over Bruce's coffin (wooden box) and carried it out, fully expecting the Germans to take it off.  But to our astonishment, the German officer called "Achtung" and gave a Nazi salute.  The guards, lined up on both sides of the walkway, gave a rifle salute when we carried Schwalm between them.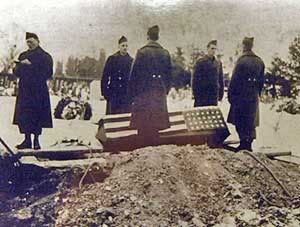 January 24th, 1945-Görlitz Germany-
2nd Infantry Division enlisted Chaplain Robert Hopkins over the coffin of
T/5 Bruce F Schwalm Jr. This was the first formal POW funeral in Germany during WWII.
L-R: Robert Hopkins,Leo Leisse,James Ashley, ? Hargrave, unknown (S&S)
The coffin couldn't have been very heavy but we were already very weak and could hardly bear up under the little weight, carrying same about a block to the grave that was already dug.
A Nazi photographer took several shots from different angles at different times, including when the Officer rendered Military Honors.  It seemed I was dreaming all this.
Next we were ordered to cover the grave.  We couldn't refuse, for to do so would be to leave Bruce uncovered.  However, the ground was frozen and very hard to handle.
We could see how terribly weak we were when the cemetery attendant would try to show us how.  The stupid jack-ass couldn't see or didn't realize what an effect lack of food had on men.  We tehn marched back and, to our further surprise, were allowed to keep the flag.  The Nazi Officer must have been an exception, probably not mean enough for the front lines.  On our return to Camp VIIIA we had a bowl of pea soup, 1/6 bread, 1/20 butter and a cookie with a speck of butter, donated by Belgians and Cerfs.


V-MAIL FROM BRUCE F SCHWALM SR.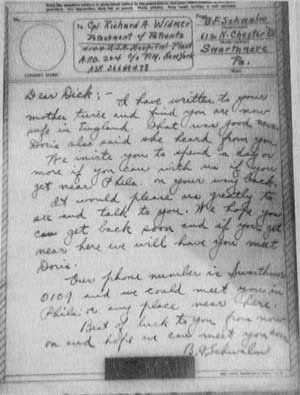 Webmaster's Collection

To: Cpl Richard A Widmer
      Detachment of Patients
      4144 USA Hospital Plant.
      APO 204 c/o P.M. New York

From: Bruce F. Schwalm
          612 N. Chester Rd.
          Swarthmore Pa.

Dear Dick;
I have written to your mother twice and find you are now safe in England.  That was good news.
Dorie also said she heard from you.  We invite you to spend a day or more if you can with us if you get near Phila. on your way back. It would please us greatly to see and talk to you.  We hope you can get back soon and if you get bear here we will have you meet Dorie.
Our phone number is Swarthmore 0109 and we could meet you in Phila. or any place near here.
Best of luck to you from now on and hope we can meet you soon.

                                B.F. Schwalm
 

BRUCE SCHWALM'S COFFIN FLAG

Technician Incha Kosloysky handles the flag used for Bruce Schwalm and other Allied POW funerals at the 2nd Infantry Division Museum.
The flag was also used for Chaplain Robert Hopkins' funeral in 2004.  He donated the flag to the Museum in 1979. (S&S)

This Stars and Stripes flag was made by American POW's of Stalag VIIIA during WWII.  The former enlisted Army Chaplain Robert Hopkins used it at more than 300 POW funerals.
Hopkins was a member of the 38th Field Artillery Battalion of the 2nd Infantry Division when he was captured during the Battle of the Bulge at Krinkelt, Belgium.

Together with several 1000 men of the 106th Infantry Division, he was imprisoned at Stalag VIIIA at Gorlitz, Germany.  On January 24th, 1945, he officiated the first formal military funeral service inside Germany for POW Bruce Schwalm Jr of the 422nd Infantry Regiment.

The Germans agreed to allow a flag to be used and for Schalm to be buried in a makeshift casket made of boards bound with wire. Prison corpses were normally stripped and tossed in an open pit, Hopkins said.
"The flag … was made from two sugar bags, which two British soldiers stole from the camp," he recalled.  It was painted with blue and red dye mixed with blood, he said.  "That was easy to come by. Soldiers were always bleeding to death," he said.
Guards photographed the service for propaganda purposes but POWs stole the photographs. The Germans were furious, Hopkins said.  "Three days later, I watched two British soldiers being shot to death by having bullets fired into their feet, then every six inches up their bodies until they died. Their last words were 'Don't let them find the flag, use it for the memory of all who die,' " he said.

When Hopkins was transferred to another stalag he took the flag with him. He and other soldiers carried it for more than 2,300 miles all over Germany, he said.  "The flag was hid so no German could find it. After we left Gorlitz the guards were more tolerable and at times we were permitted to use the flag, then the flag would go into hiding again," he said.

Four months later, Hopkins escaped, taking the flag with him. After the war he became a Methodist Minister in Natural Bridge, Virginia.

Robert Hopkins died on June 24th, 2004.  He was buried at Arlington Cemetery, his coffin draped with the same flag he used to bury so many fallen POW's during WWII.

In memoriam